Why you have to see it.
La Jolla Playhouse's current musical production,

re-defines the modern way of staging.
This world premiere, has been the talk of the town for a while. Mainly because of the creative team... Oscar/Emmy (almost every other accolade)-winning/ married couple:
Robert Lopez and Kristen Anderson-Lopez.
Songwriting duo behind the sensational Disney animated film, Frozen, as well as other very successful titles like Finding Nemo, Wonder Pets and Winnie the Pooh. Lopez alone is behind Avenue Q and Book of Mormon. Total royalty, plain and simple. For Up Here, they joined forces with Tony Award nominee AlexTimbers (Broadway's Rocky, Off-Broadway's Here Lies Love, Playhouse's Peter and the Starcatcher).
The story is about relationships, life and –your head-. Well, what seems to go on inside your head anyway. 30-something, insecure and shy computer repairman Dan (Matt Bittner), meets former corporate professional turned t-shirt designer, Lindsay (Betsy Wolfe). They like each other right away but, Dan does not decode
the intention in
Lindsay's messages. His insecurity and shyness have their own script, brought to reality by a cast of characters in his head.
Cast members in La Jolla Playhouse's world-premiere musical UP HERE,
photo by Matthew Murphy.
'Cool Guy' (Andrew Call) and 'Cool Girl (Gizel Jimenez) are usually putting the computer expert down, disapproving his every move or attempt of a move, accented by 'Humbug' (Devere Rogers). On the other end there is 'Mr. Can Do' (Devin Ratray) who is always looking for a way to tilt the situation to a positive.
There is also Lindsay's brother Tim (Eric Petersen) who without purpose, guides Dan to a more challenging place. Side note...

Eric Petersen A.K.A Shrek on Broadway AND Kirstie Alley's TV son.
Betsy Wolfe and Matt Bittner with the cast of La Jolla Playhouse's world-premiere musical UP HERE,
photo by Matthew Murphy.
This is a very modern type of musical with many elements; for example, more than 20 people onstage dancing, singing and wearing bright, tight costumes (Ann Closs-Farley).
I found it modern yet churrigueresque at times, because of the large number of elements it juggled. David Korins' set design goes from Lindsay's neat apartment to Dan's messy apartment and to the inside of his brain, very smoothly. The elaborate pieces for the –brain- part resemble cells and planet type looks. On point with David J. Weiner's Lighting Design as well as Dan Scully's Projections.
Although Bittner's singing is not very potent and sometimes not very on key, Wolfe's fills in perfectly with a powerful very well trained set of vocals that shine throughout the show.
This musical will appeal to different audiences for sure. It is totally Up There with ambition and again, different, numerous elements that grab the attention and get the rat going.
A nice change of rhythm within the piece is little Giovanni Cozic in the role of child.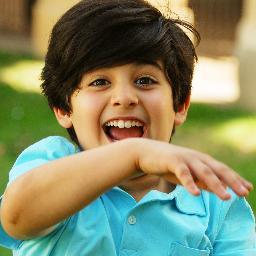 Photo: Twitter: @GiovanniCozic
From the big personality, to the delivery of his lines and message, about the meaning of life... as well as... mater and a stellar rock, he has people laughing and applauding. And he is so darn cute too. I usually find 'stage analogies' in the pieces I see.
Up Here
even though it is so new and different, I still found something. There is a Mexican monologue by actor/writer
Odin Dupeyron
called A Vivir! Where a rock is also featured. I associated the two quickly.
What is this deal about the rock you say?
Well go find out! Up Here will be playing until Sunday September 6th at the Mandell Weiss Theatre, La Jolla Playhouse. Tickets start at $66 dollars. For more info and surrounding events please go to:
www.lajollaplayhouse.org/up-here